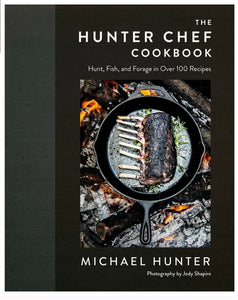 Michael Hunter
THE HUNTER CHEF COOKBOOK: Michael Hunter
Regular price
$40.00
$0.00
Unit price
per
Wild-game hunter and chef, Michael Hunter, celebrates the use of wild ingredients in a stunning collection of recipes and photography.
WELL-KNOWN HUNTER and respected wild-game chef, Michael Hunter, grew up in the great outdoors. Inspired by the endless bounty of the land, hunting, fishing, foraging, and cooking is a way of life for Hunter.
Celebrating the resources of the wild, The Hunter Chef Cookbook features a collection of over 100 recipes and butchery guides. The book includes recipes for cooking big game, from moose and bison, to white tail deer and wild boar. Common small game features include wild turkey, duck, wild goose, ruffed grouse, as well as rabbit and squirrel. Fresh-water and salt-water fish recipes feature pickerel, wild salmon, rainbow trout, prawns, scallops, and more. A seasoned forager, Hunter offers an array of savoury and sweet recipes, incorporating wild ingredients, everything from mushrooms and leeks to sumac and berries.
What's Inside:
Large Game
Small Game
Fish and Forage
Wild Desserts and Foraged Cocktails
---